Surety Agency Partners To Ensure Access To Higher Education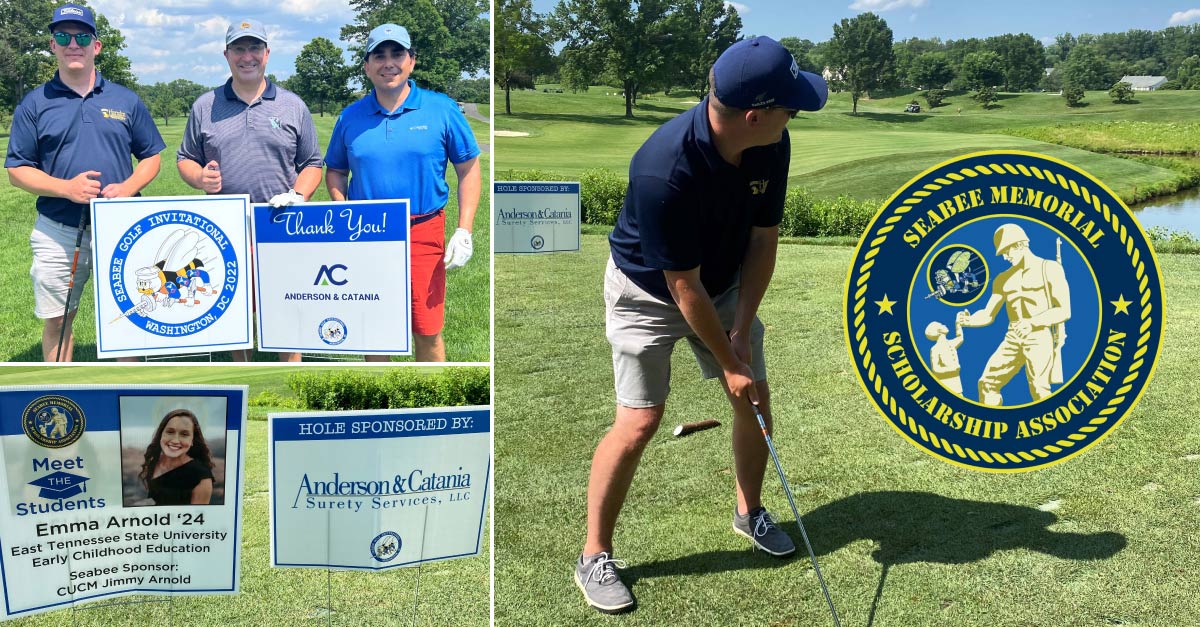 Anderson & Catania is a surety bonding agency focused on providing contractors with the surety bond knowledge and industry relationships needed to support informed decision making.  
We also like to help aspiring college students reduce the risk involved in obtaining an excellent education. That's why we partnered again this year with the big-hearted, generous team at the Seabee Memorial Scholarship Association, also known as SMSA.
We're grateful to our clients in the construction industry, and we enjoy giving back to the community through the next generation of professionals who will shape the future of our country and the world. We couldn't have found a better partner than the folks at SMSA.
The Seabee Memorial Scholarship Association (SMSA) is the nation's only provider of need-based scholarships exclusively to the children and grandchildren of America's fighting Seabees [Naval Construction Battalion] and Civil Engineer Corps (CEC) officers attending accredited colleges and universities. 
As a company focused on providing surety bonding services for contractors, we have a soft spot in our hearts for exceptional organizations in the construction industry. That's especially true for our military construction professionals who bravely serve their country as Seabees.
So we partnered with the folks at SMSA again this year to support a tremendously worthy cause and have some fun at the same time.
SMSA was founded in 1971 to build the beautiful Seabee Memorial outside Arlington National Cemetery in Washington DC. Starting in 1972, they generously began giving out scholarship funds. Since then, the group has donated over $6.5 million in scholarships to deserving children and grandchildren of brave Navy Seabees. In 2021 alone, SMSA gave out over $427,000 in scholarships.
In support of SMSA, Anderson & Catania participated in the Annual Washington DC SEABEE Golf Invitational at the Springfield Golf and Country Club on Monday, June 13. This is one of several golf tournaments hosted by SMSA each year to honor the fallen dead in the ranks of the Seabees.
We feel honored to have been a sponsor of this worthy event.
Who will benefit from SMSA scholarships funded by these charitable events?
This year's tournament will officially benefit scholarship recipients while honoring fallen Seabee SW3 (Steelworker Third Class) Eric L. Knott. SW3 Knott was killed in action in Iraq in 2004. 
Proceeds from the tournament will help the children and grandchildren of Seabees attend college. At A&C, we believe in giving back to the community we serve and developing long-term relationships with the generous non-profits serving that community. SMSA is one of those great organizations.
Students receiving SMSA scholarships graduate at more than twice the national four-year graduation rate, and over 50% study science, technology, engineering, or math (STEM).
Please contact our team if you're interested in next year's event or if you'd like some more information on SMSA.
How can Anderson & Catania help you realize your entrepreneurial success story? 
At Anderson & Catania, we believe in giving back to our community. We also believe everything begins with aligning with our contractors' goals and aspirations. Every contractor has a compelling story that must be heard. We then go to work and leverage our deep surety knowledge, scale, and industry relationships to bulldoze obstacles to goal attainment.
For over three decades, Anderson & Catania has been working with our clients to help them seize profitable project opportunities by providing them with the knowledge and relationships needed to support informed business decision-making.
Where can you go for more information on Anderson & Catania's surety solutions?
That's the easy part. At Anderson & Catania, we leverage our experience, knowledge, and industry relationships to help established businesses, startups, and individuals build the right surety relationship. Anderson & Catania's team is led by the founders, and their dedication to service and relationship building enables us to remove business obstacles for you, unleashing your entrepreneurial energy.
Whatever type of surety bond assistance you need, Anderson & Catania is primed and ready to help you realize your dreams.
Get in touch with our team today. Call us at (302) 779-0255, or get in touch online.